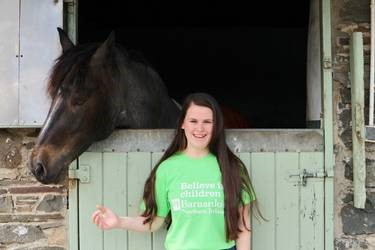 Year 12 pupil Lauren Houston has had a remarkable year so far. Lauren spent her summer undertaking a series of daredevil challenges to raise money for Barnardo's NI. Lauren took part in a Mud Run in Castlewellan and even jumped out of a plane to sky-dive in Donegal! In doing so, Lauren raised more than £2000 for an incredibly worthwhile cause. "I relied on Barnardo's when I was younger, and now that I am able to, I want to give something back."
Lauren's tremendous achievements have not gone unnoticed. She has been interviewed by The Belfast Telegraph, profiled on UTV and has even been nominated for a prestigious Daily Mirror 'Pride of Britain' Award! "I couldn't believe it when I got a phone call from UTV to tell me I had been nominated. It felt like something from a dream."
Unfortunately, Lauren later found out that she had finished second in her category, and won't be travelling to the televised gala later this month. Lauren deserves great praise for her selflessness and dedication. Hers is a remarkable achievement, and everyone at Saintfield High School is incredibly proud of her!